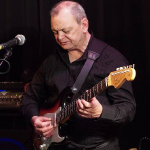 New Zealand
A real asset to guitar education
Stuart is an accomplished teacher and guitarist. He presents material in a thoughtful and professional manner. He is obviously well schooled in all facets of guitar playing and music education.
I recommend his methods to anyone looking to get started or improve their guitar teaching. There are many guitar instructors on the internet and elsewhere that fall short of the mark, Stuart is not one of these. It is obvious his primary concern is for his clients. A rare thing in today's quick fix society.
I am sure that Stuart's teaching will help many guitar teachers achieve a more professional approach to teaching. In my view, Stuart is a real asset to guitar education and someone that we have needed for a long time now.
Share