How do I become a guitar teacher?
How do I become a guitar teacher is a question that has a very easy answer:
Just make the decision.
That's it.
Once you've decided to become a guitar teacher you can put together your guitar teacher website, promote yourself as a guitar teacher and start taking on guitar students right away.
There's no association to join, no employees to hire, no investors required.
How do I become a guitar teacher that's
successful

?

How to become a successful guitar teacher is not as straightforward. To become a successful guitar teacher you must have an excellent 'student retention rate'. That is, your ability to keep guitar students coming back to you for more guitar lessons.

This in turn relies on you doing an excellent job as a guitar teacher, having lots of material to teach, the ability to tailor guitar lessons to the individual, professionalism, and many other factors.
Do successful guitar teachers have tricks and 'secrets'?
Despite what you see in internet advertisements, there are rarely any tricks or secrets to being a successful guitar teacher … or guitarist for that matter!
There is, however, experience, guidance, good planning, structured learning and solid material. When I first decided to become a guitar teacher I didn't get everything right. But I did learn from my guitar teaching mistakes, and that's crucial.
Even when I didn't make what I might call a mistake, I would still ask myself what I could do better if I was to teach that same guitar lesson again. When a similar situation came up again, I was better equipped to deal with it.
I kept ideas and material that worked well and shelved teaching material that didn't. I also spent time improving material that had potential but wasn't quite there yet.
My guitar teaching success
It took years of gradual refinement to get to the point where I considered myself a real professional. To my delight I found that I no longer had to do any other work other than guitar teaching.
The time I investment in my guitar teaching, and my desire to keep improving as a teacher, paid off enormously.
So, to become a guitar teacher is easy. Just make the decision. To be a successful guitar teacher however, you need to work at it. It's a great career but you need to take it seriously.
Be professional, be thorough, keep improving you teaching material and learn from your mistakes and successes.
Those are the keys to being a successful guitar teacher.
Be A Guitar Teacher – the complete course
Obviously a single article can't get deep into the question of how to become successful guitar teacher. For the most complete answer, and to save yourself years of trial and error, try my guitar teacher video course 'Be A Guitar Teacher'.
In it I cover virtually every aspect of being a successful guitar teacher. It goes in depth into what I have found makes for high quality guitar teaching and shows you how to build a good reliable income and successful guitar teaching business.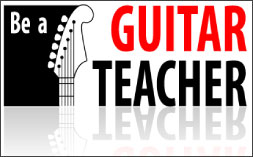 The purpose of me making this course was to create the gold standard of guitar tuition. It's 4.5 hours of professionally produced footage that's packed with detailed information and demonstrations.
It's carefully organised into seven units of work that take you from the first stages of preparation right through to teaching advanced guitar skills and musicianship.
Training courses and workshops cost a fortune. They're also all over very quickly. Be A Guitar Teacher is the cost of just 2-3 guitar lessons, or the cost of a stomp box.
I personally guarantee that it will make you your money back many times over. What's more, unlike a workshop, Be A Guitar Teacher will be your companion for many years to come. A resource that you will turn to again and again through your successful guitar teaching career.
You can try it for up to 12 months. If you don't think it's worth every penny then just get in touch with me for a full refund. No questions asked. Good luck.

photo credit: DSC04657 via photopin (license)
Stuart Bahn
Stuart Bahn is a professional guitar teacher in London, and creator of the Be A Guitar Teacher video course.
If you liked this article 'How to become a guitar teacher' please share it with others: