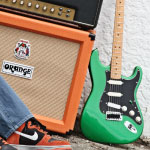 New Zealand
Highly recommended.
What a great idea. The only quality and fully comprehensive course that I'm aware of on how to become a guitar tutor.
Stuart has condensed all of the skills and the highlighted pitfalls to avoid, which all contribute to becoming a successful professional guitar tutor.
Many years of knowledge have been condensed into a a very straightforward and thorough course.
Highly recommended for musicians who want to avoid stocking supermarket shelves to supplement their income 🙂
Share